Cristiano Ronaldo decided to add quality to his supercar collection with a new "monster". Ronaldo bought a supercar with only 10 units worldwide.

The BILD newspaper quoted a source from The Supercar Blog as revealing, Cristiano Ronaldo has just decided to spend £ 8.5 million (VND 265 billion) to order a Bugatti supercar. This time, the steed selected by CR7 is the "monster" Bugatti Centodieci.
It is worth mentioning that only 10 versions of this car are assembled worldwide. The supercar is also built with many manual processes, under the hands of an experienced technical team at Bugatti's factory located in Molsheim, France.
The Centodieci owns a W16 engine block with a capacity of 8 liters, producing a capacity of up to 1,600 horsepower. Thanks to that, it only takes 2.4 seconds to accelerate from 0-100 km / h.
The maximum speed reaches 380 km / h, allowing Ronaldo to "fly" on the highways leading to Carrington or Old Trafford. "Inspired by historic models, the Centodieci transcends all boundaries of imagination, with avant-garde design and breathtaking performance.
Ten limited edition cars distinguished by luxury and looks. perfectly beautiful, turning Centodieci into a real work of art," the Bugatti homepage describes.
Ronaldo – a high-class supercar player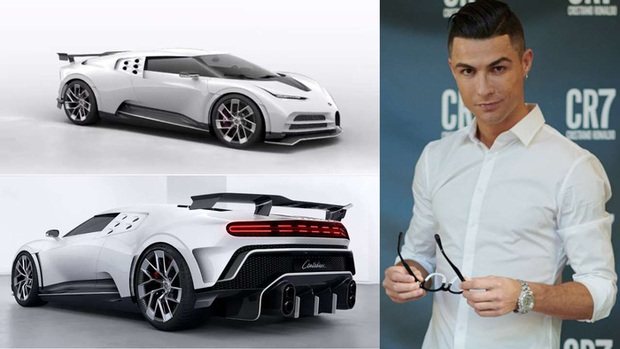 Ronaldo is famous as a super car player in the world of players. Thanks to the huge income, the Portuguese superstar does not regret buying expensive steeds, from all the most popular brands in the world such as: Ferrari, Rolls-Royce, Lamborghini, Bentley, McLaren, Maserati…
As for the Bugatti brand, Ronaldo is also said to own 3 lines: Chiron, Veyron and La Voiture Noire.