The 2022/23 Premier League season has been full of surprises and Manchester United's turnaround is undoubtedly one of them. The club had a rough start to the season under Erik ten Hag's leadership, suffering a humiliating 4-0 loss to Brentford.
However, the Dutch manager managed to steer the ship in the right direction, and United currently sits in third place below Manchester City and league leaders Arsenal. One of the primary reasons for this impressive turnaround is Marcus Rashford.
The English winger/striker has been in exceptional form since the World Cup ended in December. He was undoubtedly one of England's best players in Qatar, scoring three goals during the group stages.
Since returning to Manchester United, Rashford has been scoring goals with ease. He has scored a total of 24 goals, including 14 goals in the Premier League, and the season is not even over yet.
Rashford's outstanding performance was on full display during the game against Leicester, where he scored two goals. His first goal came in the 25th minute, where he received a pinpoint pass from Bruno Fernandes and scored with a confident finish.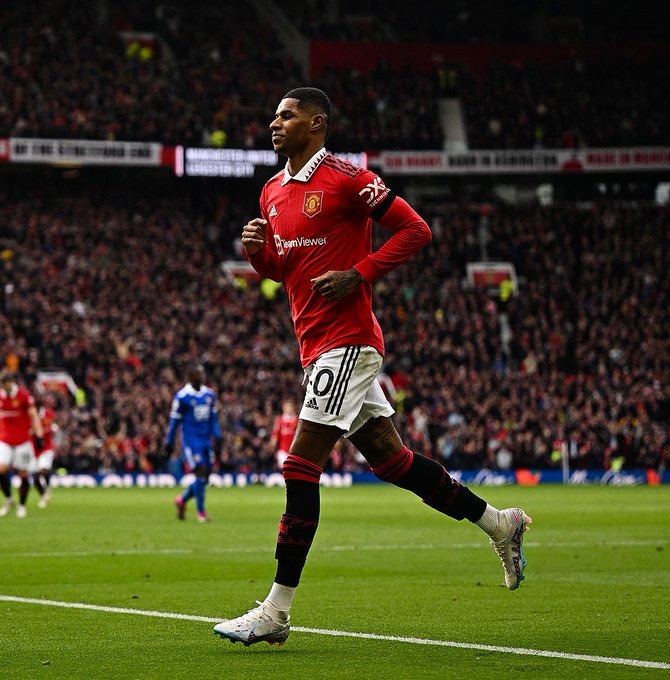 His second goal came in the 56th minute, where Fred played the ball through to him, and he was aided by Leicester's Wout Faes, who played him onside. After a slightly disappointing first quarter of the game, United chose to run riot.
Jadon Sancho came on at halftime for Alejandro Garnacho, and he managed to get on the scoresheet as well.
Rashford's exceptional performance is not the only thing that is noteworthy about this season. He has also equaled Cristiano Ronaldo's goal record from the 2021/22 season.
Ronaldo, who returned to Old Trafford in September 2021, scored 24 goals in his first season, proving that he still had what it takes to perform at the top.
However, things did not go according to plan in his second season, and United and Ronaldo reached a mutual agreement to terminate his contract. He then moved to Al-Nassr in the Saudi Pro League.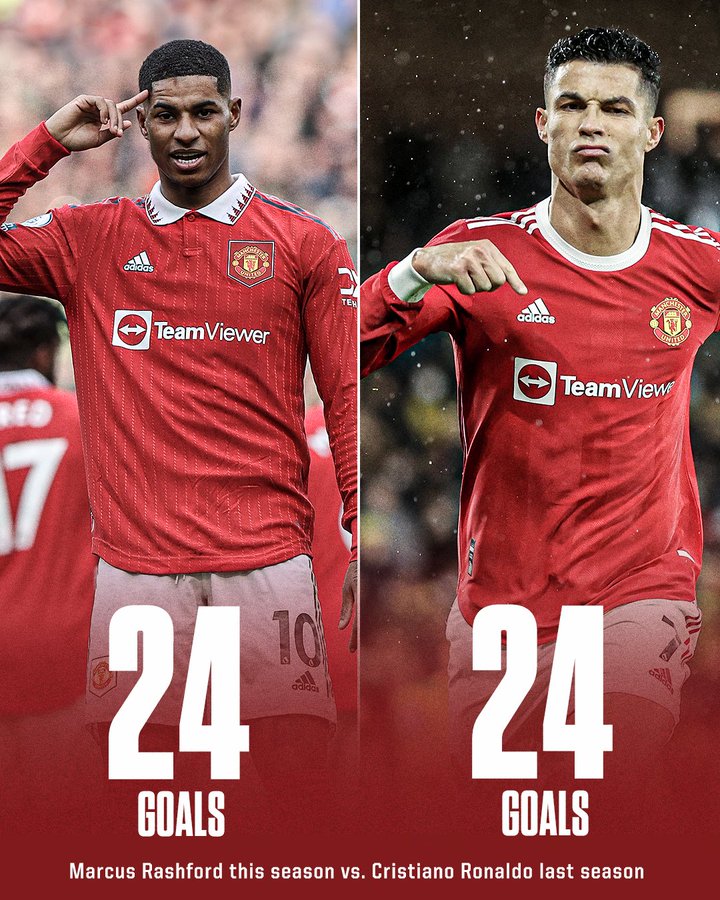 Rashford's achievement in reaching 24 goals before the end of the season speaks volumes about the kind of player he is. Ten Hag has recently mentioned that Rashford's performances do not surprise him, and he knew the 23-year-old was a special player.
United fans have every right to be excited about how the team performs this season, with Marcus Rashford leading the charge. The young player's exceptional form bodes well for Manchester United's future, and he is undoubtedly one of the most promising players in the league.