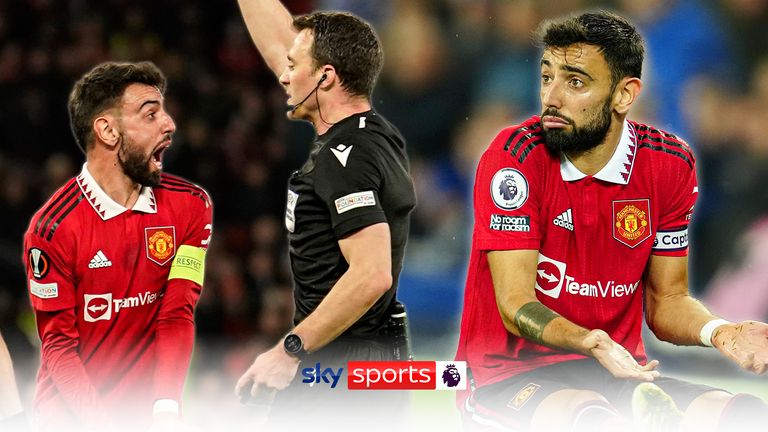 Bruno Fernandes is not feeling the end-of-season burnout with Manchester United.
The Portuguese midfielder has featured in 47 out of United's 49 matches this season – and there are still a maximum of 16 games left in the campaign. Add the mid-season World Cup into the mix and it has been a mammoth schedule of late.
"We had Raphinha at the time, he's now at Barcelona, and he stayed with me one time doing some shooting and got injured after two games. The doctor said to me: 'This is your fault, you pushed them to stay with you and now he's injured.'
"I can do it, I'm physically available to do it. I don't know if I have any secrets – my mother and father will know – but they made myself in a way that I can be available for every game. Hopefully I will be for the rest of the season."
Being constantly available for United has been particularly useful of late – given the rest of the club's midfield options have been less reliable in terms of availability
Casemiro's two recent red-card suspensions and injuries to Marcel Sabitzer and Christian Eriksen have caused some strain on the midfield depth – forcing Fernandes to take up a deeper role in United's last two games against Brentford and Everton.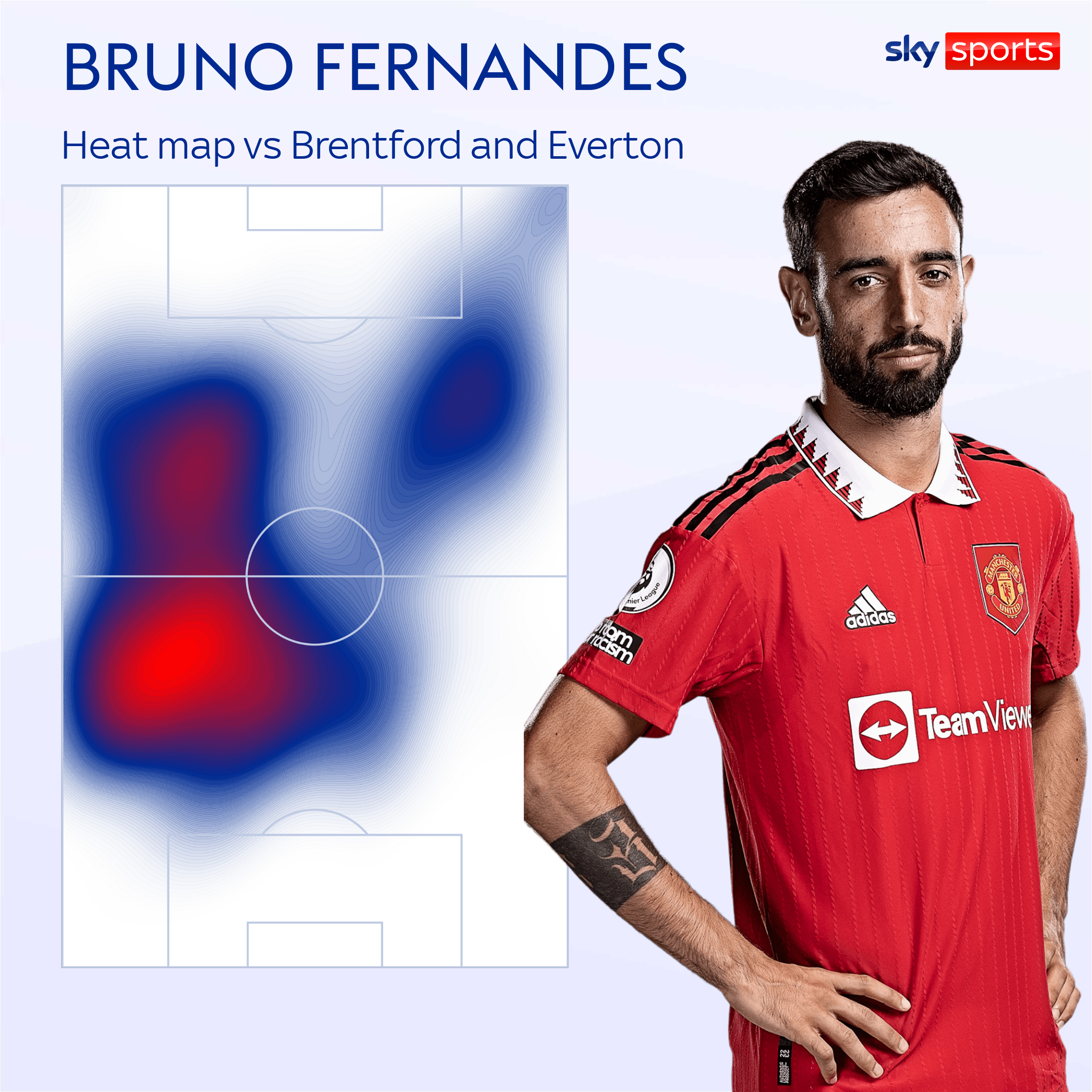 Fernandes has made his message to Erik ten Hag very clear: "I have said many times to the manager that I'm here to help – to be a solution, not a problem.
"Whenever he needs me to play in a different position, he knows I am capable of doing it. He knows I want to help the team in any way that is possible.
"I really did enjoy playing as No 6 – I have done that in the past but at United it is the first time. Both results were good for us so you enjoy it a little bit more.
"Casemiro has been out and he has been our main No 6, being one of the best players this season for us. We had to find a solution there to give the team more balance and I had to stay a little more back to help the defence more than usual.
"The result is the most important thing for the team and for me, so we got two good results so I'm really happy with that."
Being "the solution and not the problem" has been a buzz phrase around United in recent months given the high-profile players who have departed the club – such as Cristiano Ronaldo – but it also impacts the current playing squad.
Fernandes found that out during United's 7-0 drubbing at Liverpool last month. The Portuguese midfielder was branded a "disgrace" by Sky Sports pundits Roy Keane and Gary Neville for waving his arms around at Anfield during the second-half collapse – and at one point was accused by the latter of complaining that he was not withdrawn after the sixth goal went in.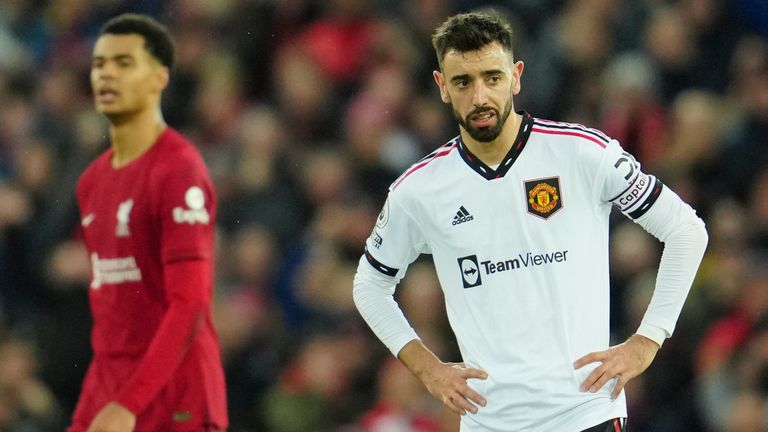 Asked if his antics – such as the arm waving – are misunderstood, Fernandes replies: "Sometimes I go over the line. I know that. It can happen in the game and it is difficult to control emotions.
"But I never try to be disrespectful with anyone. We are all competitive and we all want to win. The way I play and feel the game, the passion I feel for it, is how I feel better and how I give the most for my team and to my club. That's why I play in that way.
"I've also been like that since I was seven years old, I don't want to lose my game – I am really competitive and want to give to push and give the best of myself. And I demand the others to give the best of themselves.
"If I see someone on the pitch and I'm trying to say something to them, it's because I believe they can do better. Sometimes I can even be giving credit to them but in the television you can't see that.
"You see the waving of the arms, but that doesn't mean that you're moaning at someone. It's sometimes the way you can express yourself on the pitch. With 75,000 at Old Trafford, it's difficult to feel or listen to other people so you have to make gestures with your hands."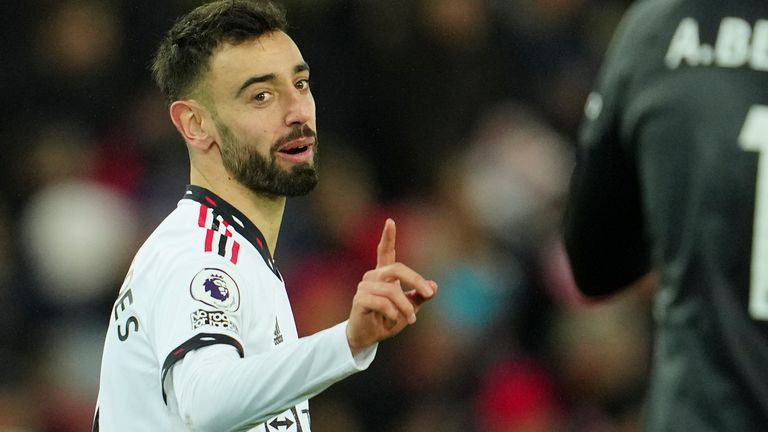 Probed more about Neville's comments, Fernandes adds: "I kind of understand behind that but I can't control that. We all know pundits have to say something to keep their work. The more bad things they say, the more work they get, sometimes.
"We all have to live with that but for me, it's about my team-mates being okay with that. Whenever they are not, I would like them to tell me so I can calm myself down.
"Most of the things that were said after that game were complete lies. Because I waved my arms, they [assumed] that I said something that I didn't say. The pundits always want to say something to get attention and credit from the people outside. Sometimes they say something to say."
The criticism of United has followed since then. A 2-0 defeat at Newcastle earlier this months, where United registered just one shot on target, was another performance where Fernandes believes it has been too strong. "It wasn't a great performance but overall it was not as bad a performance as everyone wants to make it look," he says.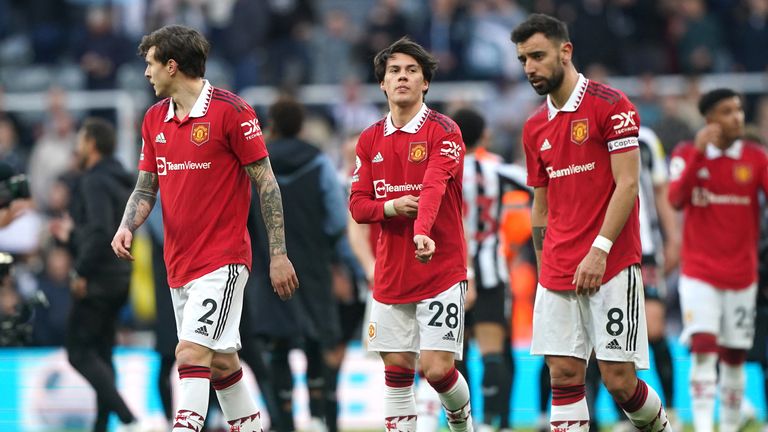 But there is a difference to United this season. Normally such a result would see the club collapse into a Ralf Rangnick-style slump. This United side respond, back-to-back wins against Brentford and Everton being an example.
"It's about sticking to the plan, to ourselves and whatever we have been doing well. That's what made us come back in all the setbacks in this season. That has made the team stronger.
"That in the past was a problem: when we had a setback it was difficult to come back from that. Now the team is more prepared to have setbacks, to have moments where things are not going the way we want.
"But we always know how to give a response."