Bayern Munich fans hold up banners against the owners of Man United and Man City during the Man City vs Bayern match in the first leg of the Champions League quarter-finals this morning.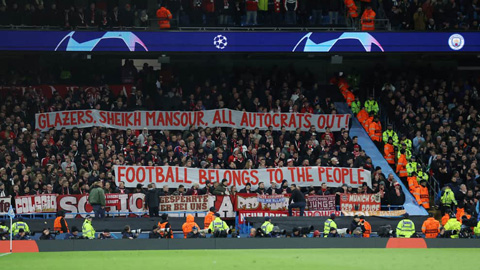 Bayern Munich fans unfurl banners against owners of Man United and Man City
The German representative was beaten 3-0 by Man City at the Etihad in the first leg of the quarter-finals, with goals from Rodri, Bernardo Silva and Erling Haaland.
In the second half of the match at Etihad, the away fans held up banners criticizing the owners of both Manchester clubs. "The Glazers, Sheikh Mansour, despots get out! Football belongs to the fans." Another group of fans also held up a banner reading "Sheikh Mansour get out" after the final whistle.
This is not unusual behavior from Bayern fans, who have carried banners criticizing the UK government for postponing matches earlier this season and its impact on the fixture schedule. "The match was delayed at the last minute because of the death of a royal member?! Please respect the fans."
Banners protesting against the owners of Paris Saint-Germain and RB Leipzig have also been unfurled during previous matches.
Bayern fans have always supported the 50+1 ownership model in Germany, a model that gives fans a big voice on issues related to the management of clubs.
Explaining the model, the Bundesliga website says: "The rule refers to the requirement that members of a club hold 50%, plus 1 vote, the right to vote – ie a majority.
In short, it means that the clubs – and more broadly the fans – have the final say in how they operate, not an outside investor or influence."